Summer has arrived, and with it the necessity to prepare the skin for the new conditions. Goal: hydration. The Luxea gold face mask is one good decision.
To prepare my skin for the sun, which dries it out a lot, I tried Luxea luxury 5 in 1 gold face mask, which instantly revitalizes the skin. There are many products on the market with a similar declaration, and this time I decided to try the Croatian product. This line of skin care products was formulated in the home laboratory of Anzotica Cosmetics. Luxea gold mask deeply cleanses and hydrates the skin, which means that it is ideal for the skin on which you apply makeup every day, but also for the skin that you may not nourish often.
The mask contains fruit enzymes with the help of which it gently softens the rough surface layer of dead skin cells, thus opening the way for improved penetration of the mask's active ingredients. Among the ingredients are caviar extract and over 20 vitamins, minerals and amino acids, natural moisture factors as well as a particularly well-absorbed form of hyaluronic acid combined with gold. The result of this mask should be soft and radiant skin.
How to use
The mask is used like any other – it is applied to the face in a thin layer. To apply it all over your face you need to take a lot of mask, but it is lightly applied and glides on the skin. The declaration states that it should be kept for about 10 to 15 minutes until it dries, and when applied, you can feel a pleasant smell that is not too strong. After only a few minutes, the skin begins to tighten slightly.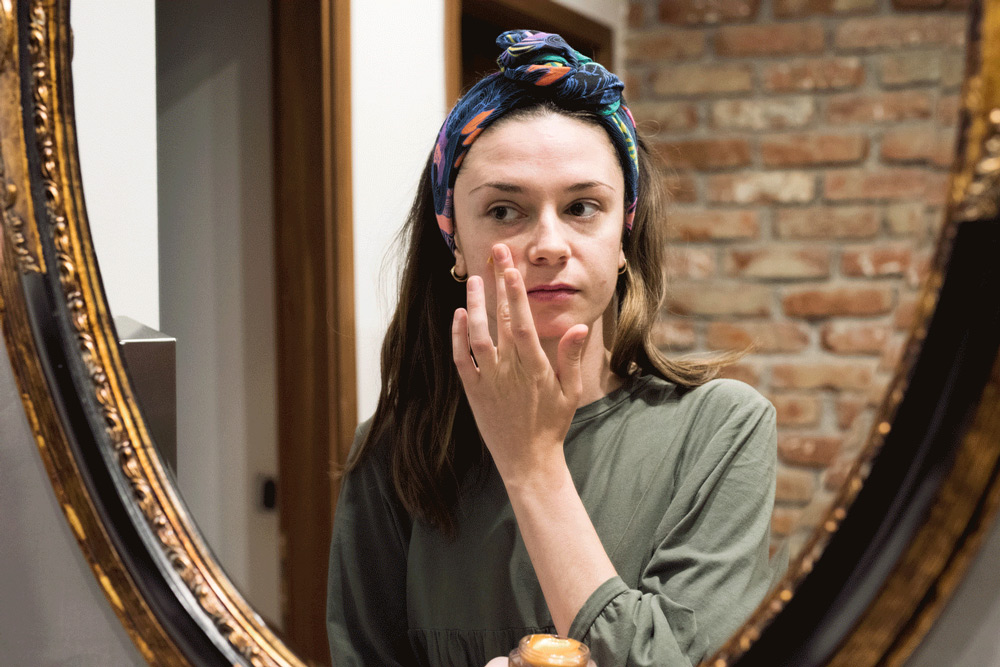 I left the mask on my face until it was completely dry which was a little over ten minutes. The mask should be removed with circular movements of the fingers, so you will know exactly that it is dry enough. If it hasn't dried somewhere yet you'll find it harder to take it off in one piece. You also massage the skin with circular movements of your fingers, and the whole mask gradually turns into balls, which you then just wash off your hands. After removing the mask, it could happen, like me, that it stays on the edges of the face. For this reason, it would be a good idea not to apply it along the full edge of the face so that it does not get tangled along the hair. However, with a little water, it is very easy to remove from these parts.
Instant results
After washing and wiping the face, the skin is instantly softer and smoother, and has a glow. Be prepared to have tiny gold particles on your face, but it won't bother you because they are barely visible, on the contrary, they give a glow to some parts of your face as if you've just put on a little highlighter. That made me look really fresh and like I was on a face cleansing treatment. The smell of the mask is great. I am normally sensitive to strong odors, but this mask has a neutral and pleasant scent that remains even after removal.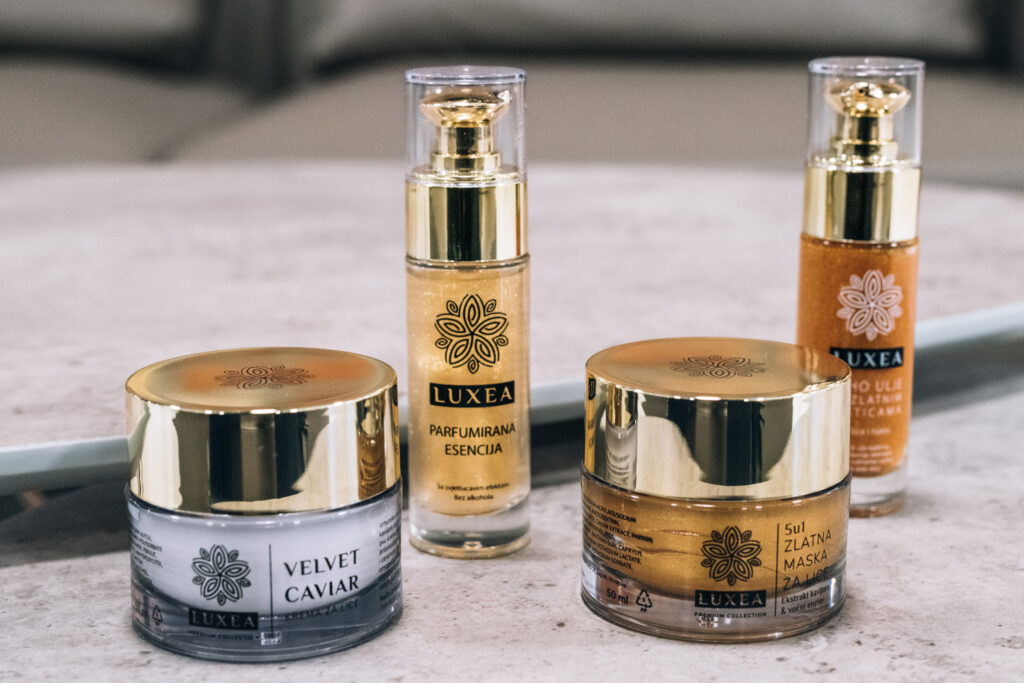 Luxea luxury 5 in 1 gold face mask is part of the golden Luxea collection, which also includes Dry oil with golden particles, Perfumed essence and Velvet Caviar face cream. To make my look complete, after removing the mask, I also applied a face cream with which my skin looked clean and fresh. Velvet Caviar cream contains caviar extract with over 26 vitamins, amino acids and other nutrients.
Behind the Luxea brand is a diligent team of experts with a master's degree in pharmacy, graduate chemistry engineers, graduate sanitary engineers, chemical technicians, safety assessors and technologists so you can always be completely sure of the excellent quality of this Croatian product.